I. Introduction to Dewatering Screen
主要作用是 脱水 、 脱泥 、脱介, 可用于 砂石料厂水洗砂、选煤厂煤泥回收、选矿厂尾矿干排等,因此也叫砂石脱水筛、矿用脱水筛、煤泥脱水筛、尾矿脱水筛、高频脱水筛等。 The dewatering screen is mainly used for dewatering , desliming , and dissolving. It can be used for sand washing in sand and gravel plants, coal slime recovery in coal preparation plants, dry discharge of tailings in mineral processing plants, etc. Therefore, it is also called sand dewatering screen, mine dewatering screen, Slime dewatering screen, tailings dewatering screen, high frequency dewatering screen, etc.
Although both belong to the dewatering equipment, the structure of the dewatering screen is different when it is applied to different materials. For example, the sand and stone dewatering screen on the washing sand production line and the tailings dewatering screen commonly used in concentrators are different equipment.
Figure: Gravel dewatering screen and tailings dry discharge screen
The dewatering screen recommended by Longzhong Heavy Industry for you is mainly used in wet sand production line. It is used with sand washing machine and can also be used alone.
Supporting use of dewatering screen and sand washing machine
First of all, why should the two be used together? 对砂子泥含量低标准高的生产需要。 It should be known that the sand washed by the sand washer is not very clean. The sand contains a large amount of mud and is too wet (large water content), which does not meet the production requirements for low standards of sand mud. Therefore, it is necessary to configure Longzhong Heavy Industry Dewatering Screen!
The sand is washed by a sand washer, and then washed by a dewatering screen, washed with sand twice, hydraulically classified, desilted, and dehydrated to achieve a reasonable particle size ratio and reduce the mud content to below 0.7% .
Picture: Supporting site of dewatering screen and sand washing machine
Third, the dewatering screen is used alone
The dewatering screen can also be used alone when it is applied to some materials with low mud content, and no sand washing machine is needed, such as quartz sand. Because quartz sand generally has a low mud content, using a sand washer to wash sand not only consumes energy and has a poor effect. ** It is important that the dewatering screen has a lower investment cost than the sand washer.
Picture: Dewatering screen workshop spot of various models and specifications
Fourth, the working principle of dewatering screen
The dewatering screen adopts dual-motor self-synchronization technology, a universal eccentric block, and an adjustable amplitude vibrator. It is mainly composed of screen box, shaker, support system and motor. Two unconnected vibrators perform synchronous and reverse operation. The centrifugal forces generated by the two eccentric masses in the vibration direction are superimposed, and the reverse centrifugal forces are canceled to form a single excited vibration in the vibration direction, which makes the screen box reciprocate. Linear motion.
Figure: Structural composition of dewatering screen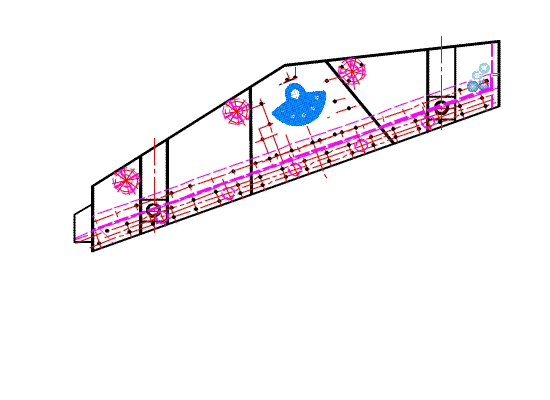 Figure: Working principle of dewatering screen
Five, technical parameters of dewatering screen
| | | | | | | |
| --- | --- | --- | --- | --- | --- | --- |
| model | Screen area ㎡ | Power (kw) | Processing capacity (m3 / h) | Feed size (mm) | Weight (t) | Overall dimensions mm |
| TS0820 | 1.5 | 0.75 × 2 | 5-10 | ≤10 | 0.8 | 2300 * 1000 * 750 |
| TS0920 | 1.8 | 1.1 × 2 | 10-20 | ≤10 | 1.2 | 2300 * 1200 * 750 |
| TS1020 | 2 | 1.5 × 2 | 20-30 | ≤10 | 1.6 | 2300 * 1300 * 750 |
| TS1225 | 3 | 2.2 × 2 | 50-80 | ≤10 | 2.1 | 2800 * 1500 * 800 |
| TS1530 | 4.5 | 3 × 2 | 100-120 | ≤10 | 3.2 | 3300 * 1800 * 800 |
Performance advantages of dewatering screen
筛网材质采用.高分子聚氨酯( UHMW----PE) ,耐冲击、耐低温、耐磨损、耐化学腐蚀、自身润滑、吸收冲击能,抗冲击性能在所有塑料中为**高值,耐磨性能优于聚四氟乙烯、尼龙、碳钢等材料。 1. The material of the dewatering screen is made of high polymer polyurethane ( UHMW ---- PE) , which is impact resistant, low temperature resistant, wear resistant, chemical resistant, self-lubricating and absorbing impact energy. The impact resistance performance in all plastics is ** High value, wear resistance is better than PTFE, nylon, carbon steel and other materials.
脱水筛的振动电机更换方便,底座橡胶弹簧用来减震,使振幅不大,缓慢的振动,可以脱得干净。 2. The vibration motor of the dewatering screen is easy to replace, and the base rubber spring is used to dampen the vibration, so that the amplitude is small, and the slow vibration can be removed cleanly.
可以根据产量和含水量来定制,机身的侧板有加强板,底部装有支撑,底部打有横条,出料口加有三角形钢板支撑,板材厚, 3. The dewatering screen can be customized according to the output and water content. The side plate of the fuselage has a reinforcing plate, the bottom is equipped with a support, the bottom is marked with a horizontal bar, and the outlet is added with a triangular steel plate support.
振动电机固定采用高强度螺栓,底部弹簧为橡胶弹簧,弹簧的质量会影响振动电机的寿命。 4. The vibration motor is fixed with high-strength bolts. The bottom spring is a rubber spring. The quality of the spring will affect the life of the vibration motor. 。 The sieve plate has a high fixed density, and ribs are punched in the sieve plate .
焊工焊过之后会严格不能出现焊孔,底部用槽钢支撑。 5. After welding , the welder will strictly not be able to have welding holes, and the bottom is supported by channel steel.
另外,筛孔可以根据需要调整,设备噪音小,脱水效果好。 6. In addition, the sieve holes can be adjusted according to needs, the equipment has low noise and good dehydration effect.
发货前,工作人员会对其进行调试,振动电机是否正常,激振器是否良好运行,确保为客户保证出厂产品质量。 7 , before delivery, the staff will debug it, whether the vibration motor is normal, whether the shaker is running well, and ensure that the quality of the factory product is guaranteed for the customer.
选型及定货 Selection and order
Indicate the screen structure (weaving, punching, slotting), mesh size, processing capacity, particle size of the material.